Generator Canopy replaced at an Airfield in Wales
30th June 2023
Earlier in the year, YorPower were approached by an Airfield in Wales to try and resolve an issue which was unique and required an expert approach to meet Health & Safety and Fire Rating guidelines.
The issue
The airfield had a 250kVA emergency generator, that had been fitted in a drop over mild steel canopy. Whilst this is usually a common canopy material, for this final location it wasn't sustainable long term due to the airfield being close to the sea. This meant the canopy suffered from severe rust caused by salt in the sea air.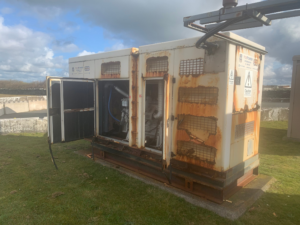 The solution
Rather than to simply replace the canopy, which would almost certainly corrode again, YorPower were tasked with providing a permanent solution. Our Service Manager, Ian Townson, worked with the team and identified 2 choices two choices of material that do not rust: stainless steel or GRP (Glass Reinforced Plastic) Kiosks.
After liaising with the airfield about the options, it was decided that the GRP would offer the best cost-effective solution. However, with this material being more susceptible to a fire, the team attended the site and measured up accurately the existing canopy, which included for the exhaust outlet, radiator outlet, air inlet and door access.
The Kiosk was then manufactured by one of our GRP specialists and sent to site, where we removed the corroded mild steel canopy and replaced with the pre manufactured GRP Kiosk, which was made to BS476 Pt22 & gives a 1/2-hour fire rating. There is also mineral wrap around the exhaust, combined with stucco finishing as well as a steel plate fitted to the canopy, where the exhaust exits.
We were happy to provide a long-term solution for our client, in a project that was unique, challenging and rewarding.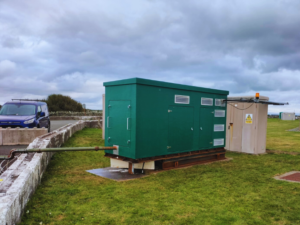 For all generator enquiries, contact us on 01977 688155 or email [email protected]